Related Products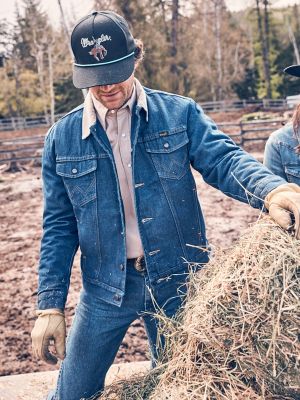 COZY FROM SUN UP TO SUN DOWN Both ...
COZY FROM SUN UP TO SUN DOWN Both functional and versatile, this denim jacket is the perfect layering piece for colder months and transitioning between the seasons. It comes fully equipped with a comfortable blanket lining for added warmth and ...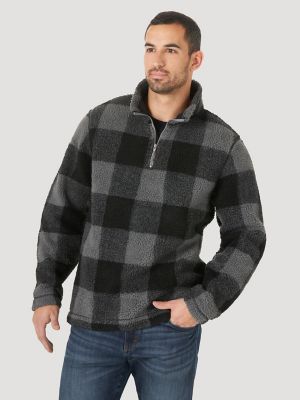 COLD? THIS HEAVYWEIGHT CAN HELP. Sherpa is a ...
COLD? THIS HEAVYWEIGHT CAN HELP. Sherpa is a reliable choice for any occasion, especially when it's cold outside. This 1/4 zip pullover will make a strong addition to your cold weather arsenal, providing warmth without overpowering your outfit. It features ...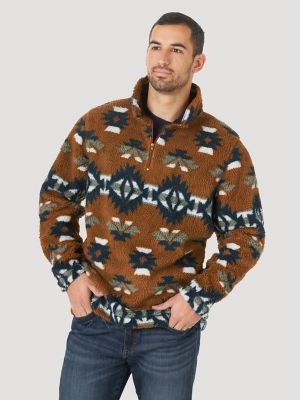 DESIGNED TO KEEP A COWBOY WARM When you ...
DESIGNED TO KEEP A COWBOY WARM When you spend most of your days or nights outside, comfort is king. That's exactly why this quarter zip sherpa pullover is made to trap heat when you want it most without adding any ...
---
Men's Denim Jackets and Outerwear
When it comes to cooler weather, nothing keeps you covered quite like Wrangler jackets. Since 1947, we've been the top destination for rugged styles that don't cut any corners in terms of comfort or style. We offer a wide array of denim jackets men know and trust for lasting quality. Whether you're hunting down a fleece-lined denim jacket to face the cold or a retro denim jacket to help you top off your everyday outfit, you'll find an ideal solution here.
No matter what's in the forecast, you can always depend on the durability of our jackets. Staying true to our roots with classic details, Western-inspired denim jackets come with all the characteristics that make Wrangler the first choice of cowboys across the country. You'll find all different kinds of ways to layer up in our selection of Western men's jackets. If you need a little bit of give as you navigate your day, nothing can beat a Wrangler® Retro® unlined denim jacket. Blanket-lined jackets will be your best bet for transitioning between the seasons, but we carry a wide variety of lined jackets that can keep up with the changing weather conditions. Sometimes, doubling up on layers is the only way to keep warm. We carry a wide range of sweaters and sweatshirts that look great with our jackets.
Don't let cold weather stand in your way of getting outside. Our assortment of outdoor jackets and outerwear will help you brave the elements in style. You'll find a wide variety of trail jackets, parkas, vests, reversible options, and much more to keep you comfortable and dry no matter what Mother Nature has in store. While you're here, stock up on all your favorite Wrangler jeans to keep your wardrobe ready for the seasons ahead.