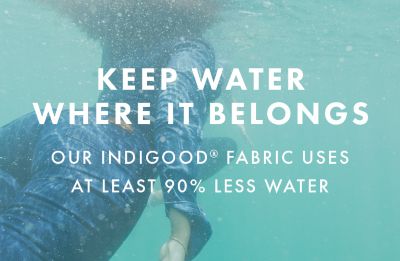 L'EAU APPARTIENT AUX RIVIÈRES, AUX LACS, AUX RUISSEAUX ET AUX OCÉANS. ELLE N'A PAS SA PLACE DANS NOS JEANS. LE TISSU WRANGLER INDIGOOD® UTILISE AU MOINS 90 % D'EAU EN MOINS COMPARÉ AUX MÉTHODES CONVENTIONNELLES DE FABRICATION DE DENIM, CE QUI NOUS PERMET DE GARDER L'EAU LÀ OÙ ELLE DOIT ÊTRE.
JEAN RÉSISTANT. UNE EMPREINTE ENVIRONNEMENTALE MINIME. ACTION RESPONSABLE.
IIndigood s'inscrit dans le cadre de notre engagement WeCare en faveur de la planète. Nous prenons les mesures nécessaires pour réduire notre empreinte écologique sur la Terre en nous fixant des objectifs ambitieux en matière de développement durable et en adoptant les meilleures pratiques du secteur pour les atteindre. Qu'il s'agisse de l'utilisation de l'eau, de sols plus sains ou d'énergie propre, nous repensons la façon dont nos produits sont fabriqués et leur composition, en trouvant davantage de moyens d'utiliser moins de ressources.
EN SAVOIR PLUS
TOUGH DENIM. GENTLE BOOTPRINT. RESPONSIBLE ACTION.
Indigood is part of our WeCare commitment to the planet. We're taking the steps to reduce the boot print we leave on the Earth with ambitious sustainability goals and industry-leading practices to achieve them. Whether it's water use, healthier soil or clean energy, we're re-thinking how our products are made and what they're made of, finding more ways to use less.
LEARN MORE