JLP2DF
Men's Long Sleeve Button Down Two Flap Pocket Plaid Shirt
More
With a modern fit This Wrangler Long Sleeve Woven Plaid shirt, formally from our Wrangler Jean Co. collection, is the perfect shirt to keep you updated and styled. This plaid woven shirt is made of 100% cotton with one button front pocket and decorative...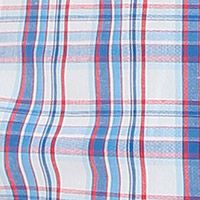 BGBPL
Boy's Classic Long Sleeve Button-Down Plaid Shirt
More
Classic style for your youngest cowboy.He'll feel and look like the big guys in this classic plaid shirt. It has a button-down collar, straight back yoke, and two-button cuffs that can be easily rolled for a more casual look.




Extended Sizes





Extended Sizes






BVR
Boy's Wrangler Retro® Western Snap Plaid Shirt
More
Casual comfort, retro charm.Designed to be worn untucked, it's not only super comfortable, it's got the cool Wrangler® label right on the front placket. Vintage-inspired details like Western pockets and yokes, snaps and two needle topstitch...



Extended Sizes