LW719
Women's Long Sleeve Serged Hem Western Snap Top
More
Distinct Wrangler Style.This stylish snap front top features a highly desirable vintage sense of style. Western-inspired details such as pointed yokes and serged hemtails give this long sleeve a familiar feel, while the fashionable pop colors perfectly s...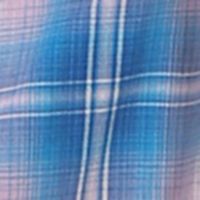 LRW25
Women's Short Sleeve Biased Yoke Plaid Western Snap Shirt
More
Statement-Making Style.Looking effortless is easy when you have this short-sleeve fashion top. Pointed yokes, dual front pockets, and snap details throughout give it a distinctly Western-inspired appearance that pairs perfectly with your Wrangler jeans. ...

LW1874M
Women's Long Sleeve Floral Print Western Snap Shirt
More
An Instant Classic.Full of soft and vintage-inspired touches, this stylish long sleeve top is one-of-a-kind. Authentic details like pointed yokes and dual front pockets mean this timeless top is destined to become an instant classic. It's the subtl...

LW2037M
Women's Sleeveless Floral Print Western Snap Shirt
More
Effortless Elegance.Carefree, warm-weather days call for an effortless top just like this one. This sleeveless style is covered in thoughtful details that impart a timeless sense of elegance. Contrast stitching, opalescent snaps, and pointed yokes combi...




LW2036M
Women's Long Sleeve Vertical Print Western Snap Shirt
More
Classy and Contemporary.This fashion-forward, effortless top promises to always keep it classy. Contemporary details like the on-trend color and eye-catching pattern give this design an understated elegance. With that said, the diamond snaps, pointed yok...